4310R-101-472LF
4310R-101-472LF Thick Film SIP Resistor Network manufactured by Bourns.
Available from Euro-Tech stock is part number 4310R-101-472LF resistor network from Bourns.
Part Number: 4310R-101-472LF / 4310R-101-472.
Description:
Resistor Network 10 Pin, , Bussed - RoHS Compliant. 2006+ Date Code.
1.25W
Bussed
RoHS Compliant
2006+ Date Code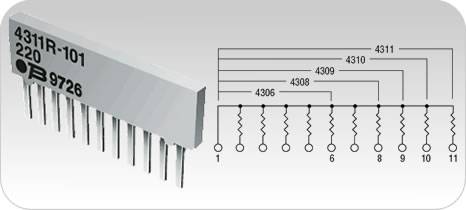 Manufacturer: Bourns
Price: £0.08GBP Each on Lots of 1000 pieces.
Quantity: Currently 26,795 Pieces.
A full data sheet for 4310R-101-472LF is available to download here.