GE13971 - 5960-99-654-5430
GE13971 Triode Vacuum Tube from MPD Components.
Currently available from Euro-Tech stock are these tubes from MPD Components.
Part Number: GE13971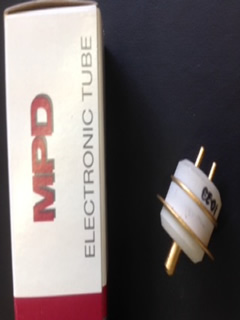 Nato Stock Number: 5960-99-654-5430 / 5960-00-004-5819
Description: Ceramic-metal planar triode intended as plate-pulsed oscillator or amplifier at frequencies up to 6000MHz.
Manufacturer: MPD Components. (MPD was spun out of GE - they were GE's Microwave Products Department)
Price: £600.00 each
Quantity: Currently 12 Pieces.
Supplied with full warranty. New, Unused.
TYPE

MAX. DC PLATE
(VOLTS)

MAX. PEAK PLATE
(VOLTS)

FILAMENT POWER Wf
(WATTS)

MAX. PLATE
DISSIPATION (WATTS)
MAQ FREQ.
(GHz)
CATH AREA
(cm2)
TYP. OUTPUT
(WATTS)
@ FREQ>
(MHz)
@ DUTY
GE13971
-
2500
3.5
6.5
6.0
0.34
1000
1100
CW